CONWAY ONLINE AUCTION
Antiques & Collectibles Online Only Bidding
Starting: Mon. Oct. 23rd @ 5:00 p.m.
Starts Ending: Mon. Oct. 30th @ 5:00 p.m.
Property Location:
6497 Ky. Hwy. 419, Mays Lick, KY 41055
(Corner of Hwy. 419 & Mill Creek Rd.)
-Auction Signs Will Be Posted-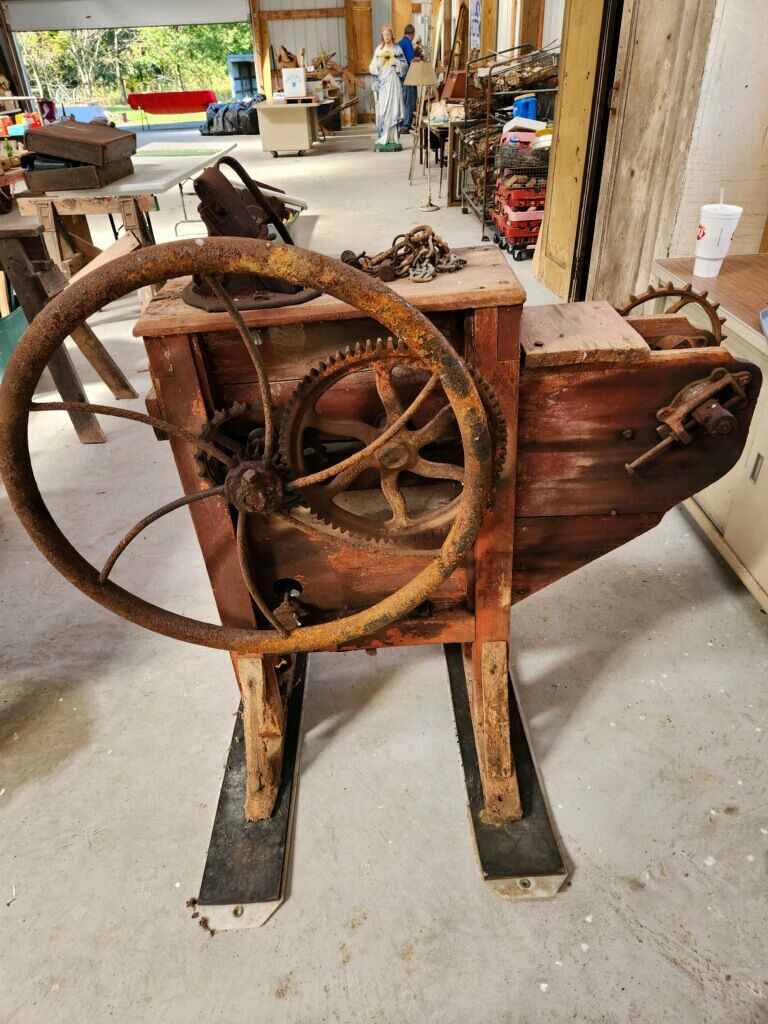 ---
Preview Dates:
Tues. Oct. 24th, 4-6 p.m.
Thurs. 26th, 4-6 p.m.
Pickup Dates:
Thurs. Nov. 2nd, 4-6 p.m.
Fri. Nov. 3rd, 4-6 p.m.
*Please note our pickup dates for this auction*
---
HIGHLIGHTS:
2 cob corn sheller, vintage Pepsi Cola store cooler, Civil War cannon balls, arrowheads, antique furniture, P&G basket, dinner bell (marked Maysville), signed Cincinnati Reds baseballs, Maysville KY memorabilia, tobacco advertising, wood tobacco baskets, metal cigarette rack, vintage plastic lunch boxes, blacksmith forge blower, .22 cal rifle, ATV gun case, lanterns, crocks, glass insulators, milk cans, enamelware items, ladder back chairs, Coca-Cola wood crates, vintage bottles, pictures and picture frames, large trunk, antique wood chicken cage, vintage tools, old farm hand tools (scythe, pitch forks, shovels, picks, mattock), 12 gal shop vac, 2.5 ton floor jack, ladders, metal carts on wheels, Craftsman lawn sweeper, many more items too numerous to list.
Contact Auctioneer Ronnie Lawson with questions: 859-494-9305
Owner: Tommy Conway Estate and Wanda Conway
Terms: 10% buyers premium will be added to all final bids to determine final sale price. Full payment due day of pickup. *Shipping is unavailable for our auctions*
Payment/Pickup: We accept cash, good check or credit card (with 3% convenience fee). 6% KY sales tax fee will be included on invoice totals. NOTE - CHANGE OF PICKUP DATES: All items to be picked up either Thurs. the 2nd or Fri. the 3rd, 4-6 p.m. Payment & Pickup Location: 6497 Ky. Hwy. 419, Mays Lick, KY 41055. Notes: Our auctions feature staggered closings. Property is selling as-is, where-is.
Although all information in all advertisements is obtained from sources deemed reliable, the auctioneer/broker and owners make no warranty or guarantee actual or implied as to the accuracy of the information. It is for this reason that the prospective buyers should avail themselves the opportunity to make inspection of property prior to bidding. Our company is not responsible for accidents. Property to sell in "as is condition".
AUCTION CONDUCTED BY
CHUCK MARSHALL AUCTION & REAL ESTATE COMPANY
4565 Maysville Rd, Flemingsburg, KY 41041
www.chuckmarshall.com Like us on FACEBOOK
Chuck Marshall, Broker/Auctioneer 606-782-0374 or 606-845-5010
Ronnie Lawson, Auctioneer (859) 494-9305 ∙ Dusty Doyle, Apprentice Auctioneer (606) 748-8902
Taylor Saunders, Apprentice Auctioneer (606) 407-3158 ∙ Travis Robinson, Apprentice Auctioneer (606) 407-2119